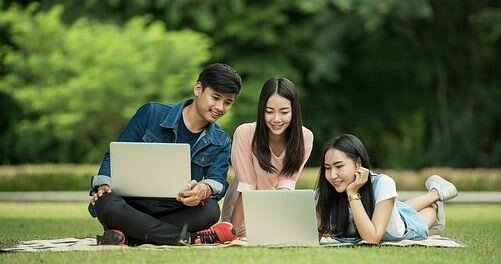 Community key in student accommodation
Establishing a community feel is, beyond offering convenience features such as all-inclusive packages, increasingly more important for purpose-built student accommodation providers and investors, StudentMarketing told The PIE News commenting on a 2018 update of its 2017 Amenities in Student Housing report.
The prospects for PBSA business in Europe are bright
"This is a recent trend of the past 12-18 months, [investors and providers] are trying to establish a proper community and residence life in their PBSAs," StudentMarketing Head of Marketing Stefan Kolibar told The PIE.
"Right now, the accent is being put on that, and all types of stakeholders are focusing on the quality of life that students have in their premises."
Last year's study, which was published in The Class of 2020 Annual Trends Report in November, tracked what kind of amenities PBSAs are offering across 15 cities in Europe.
"All types of stakeholders are focusing on the quality of life that students have in their premises"
It found that the laundry room was the most commonly offered amenity, followed by a communal kitchen and a TV room.
This year's update doesn't show any dramatic changes, StudentMarketing senior research manager Julia Momotiuk told The PIE, but figures indicate that the pattern is consistent for more socially-oriented features to develop.
"The trends are more settled now," she said.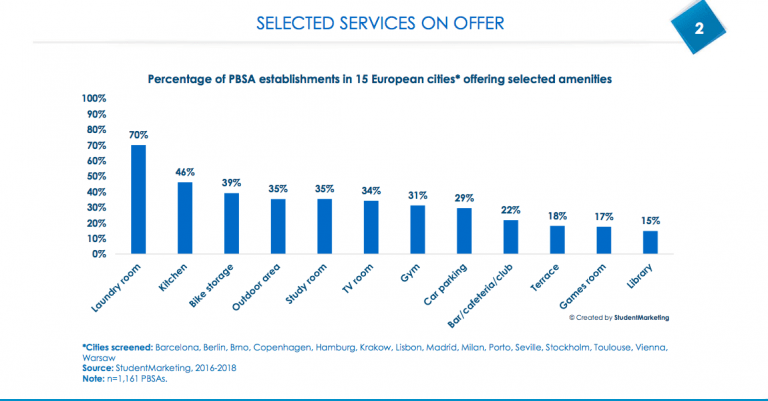 And although trends vary from city to city – 86% of PBSAs offer TV room in Porto, compared to just 2% in Lisbon according to the new data – Momotiuk explained that investors and providers are listening to their customers' demands and "mixing up" their offer to cater for their requirements as any small details can swing students and parents decisions.
"Socialising is very important for students – study room, TV rooms and other common areas are in demand. Investors are looking at it and following the demands of students," she said.
"Student housing providers and universities are following the interests of the customers – most of them are millennials, students who want to have fast internet, efficient spaces and everything at their fingertips. That's what they expect."
Among other upward trends is a focus on security, a must especially for parents, with residences "increasingly promoting" their security features.
Convenience is also a focus, with most residences surveyed charging utilities as part of their rent, providing an all-inclusive package.
This is evidenced in the data, with the availability of all-inclusive packages the only data point that doesn't vary substantially across Europe. In fourteen of the fifteen cities investigated for the study, over 2 in 3 PBSAs offer all-inclusive packages, while Toulouse stands at 51%.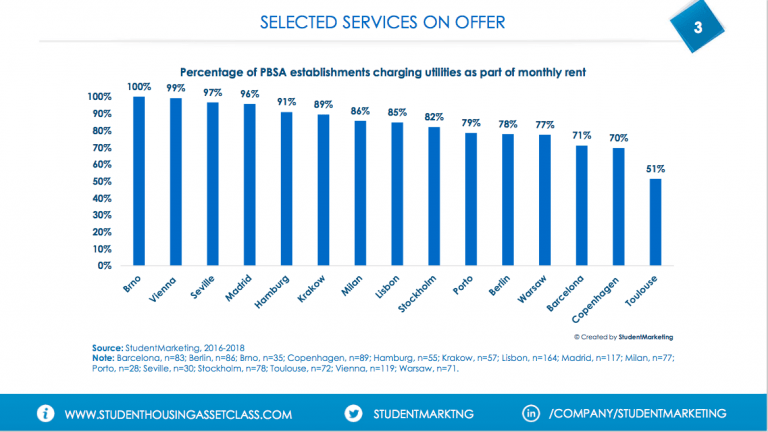 he prospects for PBSA business in Europe are bright, Kolibar said, with the continent attracting investors thanks to increasing numbers of international students flowing in a market that is still relatively undersupplied.
Affordability of tuition fees and the initiatives that some European countries and cities are undertaking to attract young talent make Europe particularly attractive, he said.
"Western Europe is still attractive, there are still big university hubs or cities with quite considerable lack of supply, such as Vienna or Milan," he explained.
"But over the past 12-18 months we saw a trend, and we are still awaiting a bigger push, focusing on Central and Eastern Europe and the Nordics."
"We are still awaiting a bigger push, focusing on Central and Eastern Europe and the Nordics"
"It's not reaching the volume of international students in Western Europe, but the market in the CEE region is quite undersupplied when it comes to private PBSA."
On the other side of the Channel, the UK's prospects are less bright as the market is already developed, Kolibar explained.
"There are still lots of investments in London and other strong university cities in the UK, but the potential of the UK is not as strong as that of continental Europe," he said, adding that the political uncertainty in the UK doesn't help.
Beyond Europe, the US is even more mature than the UK, with Australia developing relatively quickly, but not reaching maturity levels yet. Canada is another market on the investors' target list.
"We keep hearing about Australia and Canada more and more these days," Kolibar concluded.