Analysing responses from 114 members in the Quarterly Intelligence Cohort (QUIC) scheme that provided data in both this year and in 2017, there was a 3.9 per cent drop in student weeks to 333,001 in the peak July-to-September period, English UK said.
Junior student weeks dropped by 7.5 per cent to 105,149 weeks, while adult student weeks decreased by 2.2 per cent to 227,852.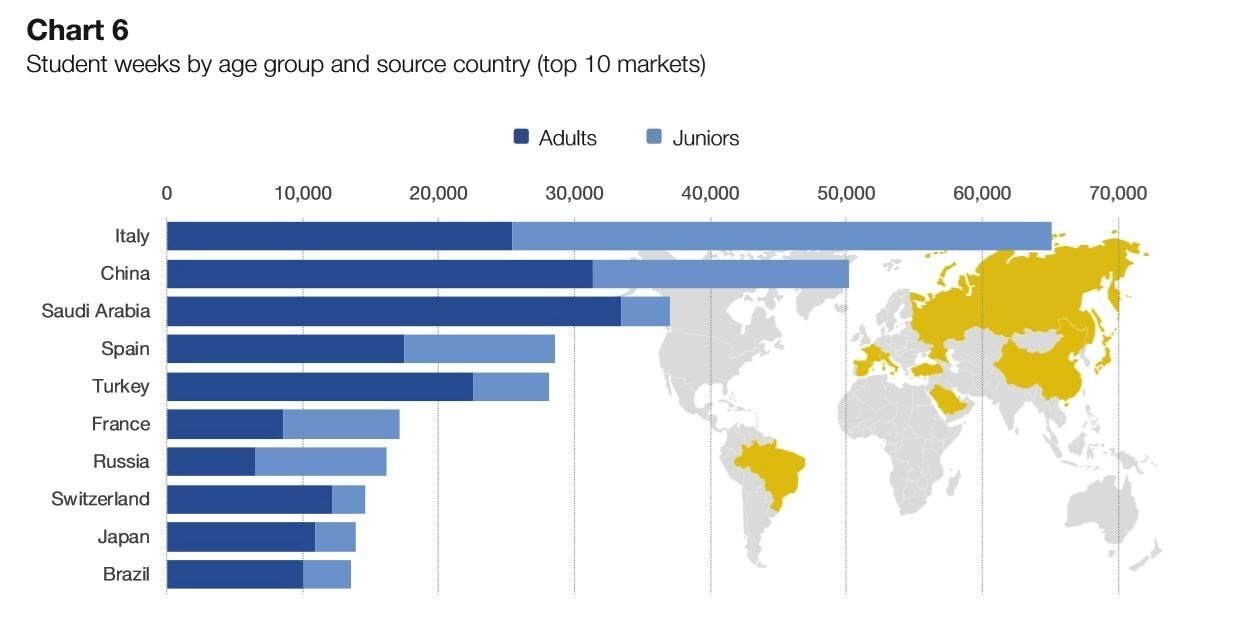 The top nationalities in the Q3 2018 period for schools in the QUIC scheme. Source - English UK/StudentMarketing.
Commenting on reasons for the decline, Roz McGill at English UK, who manages the QUIC scheme, said, "We do know that since last year some multi-centre organisations have reduced the number of seasonal centres they operate and moved into different markets, which is showing up as lower junior student week figures. Changes and delays to the PON [scholarship] scheme may also have caused a drop in the Italian figures."
Italy was still the largest source market for Q3 with 65,089 weeks but decreased 17 per cent for year-on-year reporting members. China was the second largest market with 50,212 weeks (+12 per cent compared with the same period in the previous year), followed by Saudi Arabia (+six). Spain and Turkey completed the top five.
English UK said that along with Italy, Korea (-14) and Switzerland (-13) were also major markets with decreases in the 2018 Q3 data, compared with the previous year.
On the other hand, Thailand (+39) and Chile (+14) were major growth markets for the quarter.
As expected for the quarter covering the summer months, juniors accounted for 36 per cent of student weeks among the reporting schools, a much higher ratio that the 12 per cent registered in Q1 and 15 per cent in Q2.
There was also a much more prominent share of group bookings, which represented 34 per cent of all student weeks in the Q3 period, compared with around one fifth in both of the previous quarters.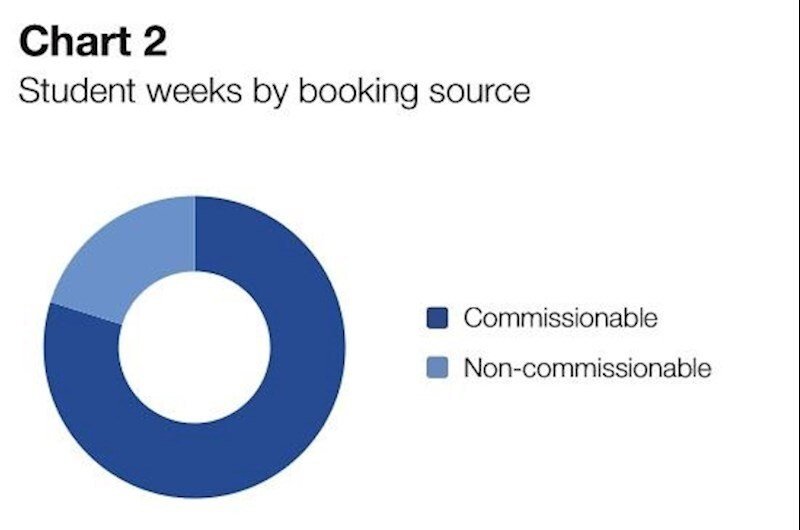 Student recruitment channels in the Q3 period.
In the peak season, agents were comfortably the main recruitment channel for language schools participating in the scheme, accounting for 80 per cent of all student weeks.
For junior students, summer camp programmes were the most popular course option in Q3, commanding just over two thirds of weeks, with the remainder studying General English. For adults, General English represented 82 per cent of student weeks, followed by English for Academic Purposes (EAP) on 13 per cent.
Roz commented, "Although any drop in student weeks is unwelcome for our members, the advantage of QUIC is that they know about it within weeks of the quarter's end, and are in a strong position to revise marketing plans swiftly.
"This is a benefit for all English UK members, but is particularly useful to QUIC members who receive the full report. Before QUIC, this type of data was only available once a year in our annual student statistics report."
The QUIC scheme was launched by English UK at the beginning of 2017 in partnership with StudentMarketing and currently has 142 participants. The Executive Summary of the report is available on the English UK website.