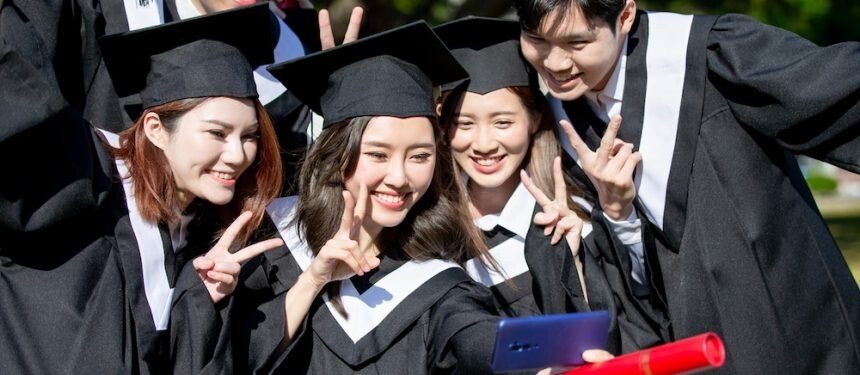 The choice to study abroad is often a "long-term decision", so families will be making "careful preparations"
Recently, China has seen a slump in its economy, with forecasts saying the country is likely to miss its 5% GDP growth margin for the year.
Youth unemployment rates are also soaring – in June, 16 to 24 year olds in urban areas saw recent unemployment rates of 21.3% – and data released on August 15 show overall employment has risen to over 5.3%. China has also announced that it will suspend further updates to unemployment figures until further notice.
This also comes as graduates, struggling to find work in other countries, are reportedly going back to attempt to find a job at home, despite the worrying figures.
"While there can be no doubt that China is experiencing economic challenges, China's new normal of 5% projected GDP growth is still exceptional in a global context in terms of scale," Isabel Xu, director of education at China-Britain Business Council pointed out, speaking with The PIE.
She went on to say that while data from more immediate UKVI and HESA would be "interesting to see", the CBBC isn't seeing a diminishing level of interest in study abroad – specifically to the UK.
"While there has been significant pent-up savings which is a positive sign for China's consumer economy, the pandemic has also caused hardship within the urban middle classes with the strain felt on businesses of all sizes.
"The current economic situation is arguably influencing households to invest in education over property and other consumer products. Families are saving for the future of which education is a key consideration," Xu explained – a property slump is also accompanying the general economic uncertainty.
"There could be an impact on students' appetite for studying abroad… but it is not necessarily significant," agreed Grace Zhu, China branch director at BONARD.
She told The PIE that the choice to study abroad is often a "long-term decision", so families, as Xu pointed out, will be making "careful preparations" for such expenses financially.
In terms of where these students want to go, there have been reports that increasing amounts of students may prefer to stay more local – due to a variety of reasons, including geopolitical factors and costs.
"There has been a trend of Chinese students going to study in closer destinations such as Singapore," said Richard Coward, CEO of the China Admissions agency.
"We are also seeing the trend of more overseas Chinese students going to study in China," he said to The PIE.
Xu said that while these trends are happening, the numbers are small enough that major destinations like the US and UK needn't worry about major decreases in their intake numbers from China – at least due to fluctuation in the economy.
"The Chinese government is likely to continue prioritising measures to make education more accessible"
She referred to BONARD's research confirming that English-speaking countries were indeed still the top preferred destinations for Chinese students. However, as Coward mentioned, other factors such as improved courses in more local destinations will attract certain students.
The National University of Singapore, for example, broke into the top 10 for the first time in the latest QS rankings, rising to eighth position after spending three years at the 11th spot.
More than half of new entrants in the 2024 rankings came from across the continent, including five in Malaysia and 10 in Indonesia.
Chinese graduates returning to the country despite a difficult job market, while "indeed challenging", is still becoming a popular choice, Zhu continued.
In 2022, almost half of Chinese graduates abroad chose to return home within six months of their course ending. Stakeholders say this could be down to a post-pandemic "mindset shift" among students who now want a familiar environment after studying abroad.
One job recruitment platform in China conducted recent research that said there was an 8.6% year-on-year growth in students returning to China for employment in 2022, according to Zhu.
Inbound growth for China at its institutions, however, remains a challenge.
"You may draw a parallel here with executives coming to China from overseas. The pandemic has significantly impacted international student flows into China and Chinese universities – and the market is yet to recover confidence," Xu said.
"Both the economy and geopolitics coupled with logistical factors such as lack of flight capacity continue to impact," she added. The Civil Aviation Administration of China projects that 70-80% of 2019 capacity will be reached by the end of 2023, with further growth assumed in 2024.
Coward said that the first new wave of students is now finally beginning to come into China after the pandemic, so it might be too early to tell the true impact of economic factors – he's "keeping an open mind" regarding numbers.
"The current economic situation is arguably influencing households to invest in education over property"
Zhu argued that the economic situation will not really put off students choosing to study in China. Universities often offer financial assistance, and there are various programs aimed at encouraging them to choose the country as a study destination.
"Consequently, the Chinese government is likely to continue prioritising measures to make education more accessible and affordable for international students, including the provision of scholarships and other forms of financial assistance.
"The industry should maintain confidence in the market and enhance its publicity efforts," Zhu added.