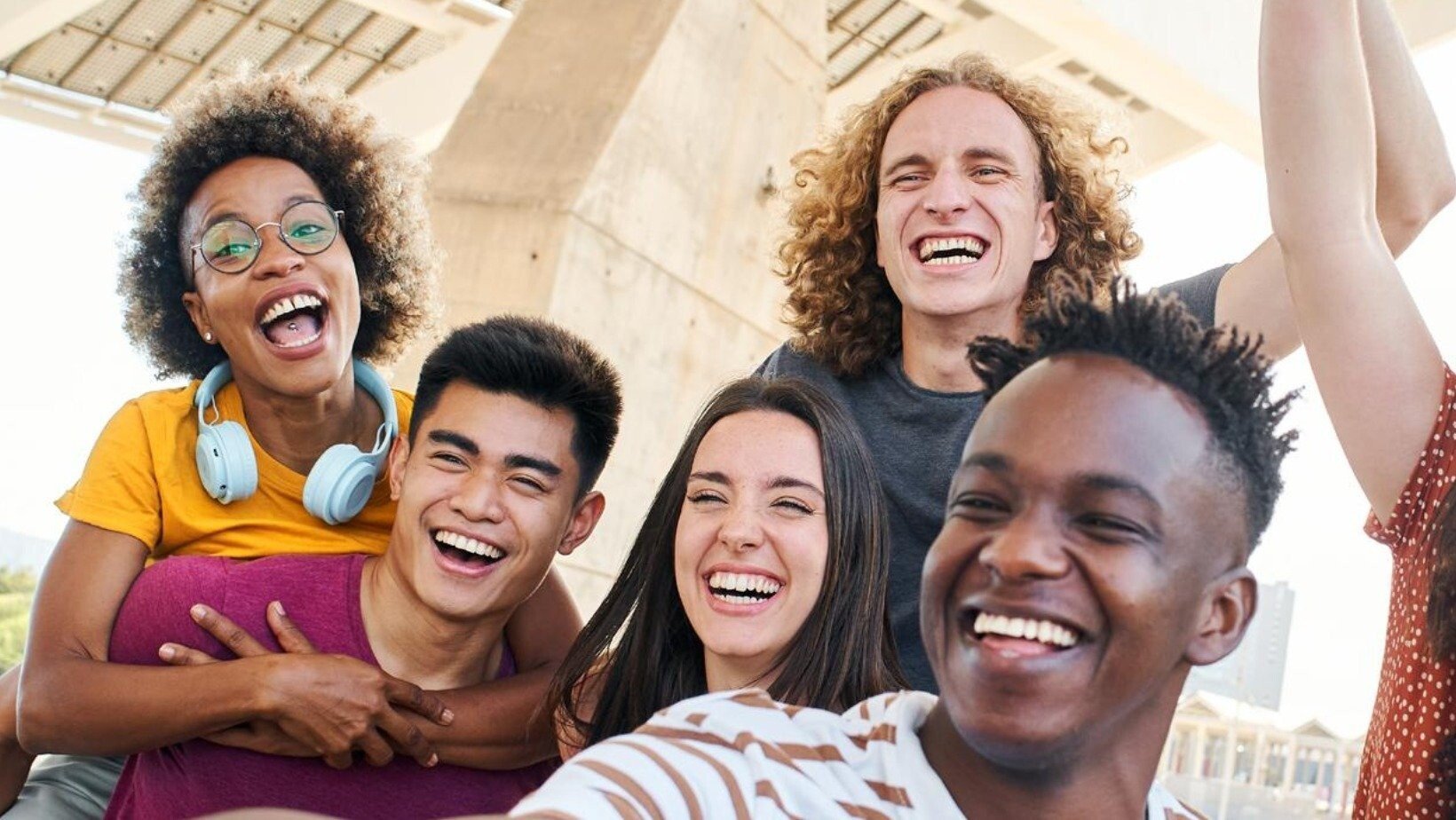 Student Travel Business Barometer Annual Report 2022
Student group travel experienced robust growth between 2021 and 2022, with increases of 267% and 198% for in-country and out-of-country travel, respectively, according to the newly released research report, the Student Travel Business Barometer Annual Report 2022. This strong growth is consistent with many travel industry indicators that travel demand is surging as we try to close the gap and return to pre-pandemic travel numbers.
SYTA and BONARD Release Results of The New Student Travel Business Barometer Annual Report 2022
Resilience and recovery in student group travel fueled by increased in-country travel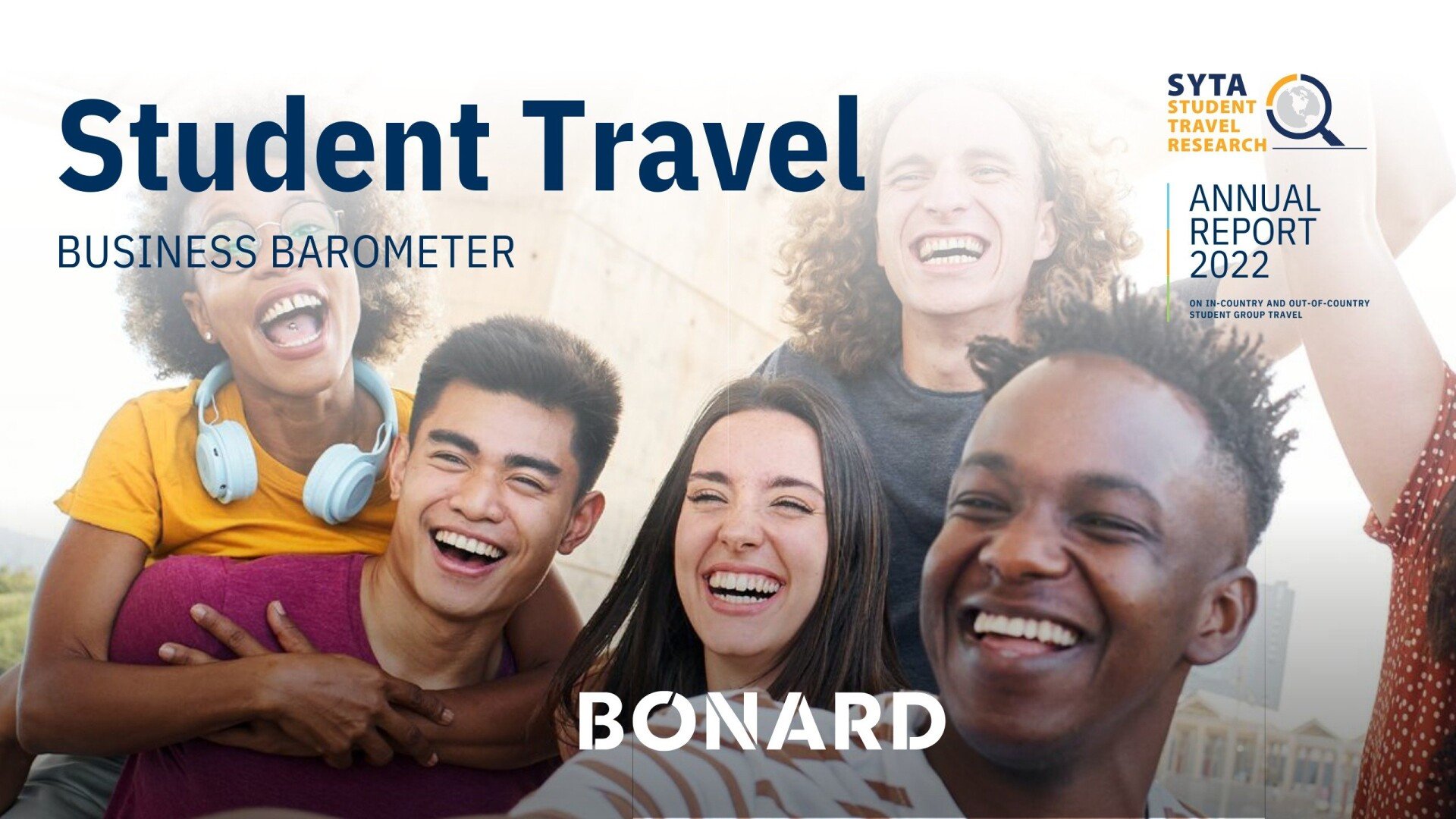 Student group travel faced a significant decline in 2020 and 2021 during the pandemic, primarily due to travel restrictions that disrupted planned trips. However, the latest report released by the Student & Youth Travel Association (SYTA) and BONARD shows that despite these challenges, the student group travel sector has demonstrated remarkable resilience and is now leading the way towards recovery.
When compared to overall global travel, the student group sector showed remarkable strength in 2022 following a precipitous fall. Overall international tourist travel, according to the UNWTO Barometer, reached 63% of pre-pandemic levels in 2022. In contrast, the recovery of international under-18 student group travel has been slower, with travel volume only reaching 22% of its pre-pandemic levels. However, students and planners have adapted by choosing in-country trips instead. This shift in preference has played a pivotal role in driving the recovery of the industry, with in-country trips accounting for 54% of pre-pandemic levels – nearly that of the industry as a whole.
"The findings indicate a positive trajectory as student group travel surpasses initial expectations and steadily moves towards pre-pandemic levels," said Carylann Assante, CAE, SYTA's Chief Executive Officer. "The industry's shift to in-country travel highlights the determination of students to continue exploring and learning, even within their own countries. This has been an amazing example of travel providers' ability to quickly adapt to the changing travel conditions while keeping students safe and back on the road for experiential education."
The Student Travel Business Barometer sheds light on the current state of student travel, providing a comprehensive understanding of the recovery process and future prospects.
The study shows the sector moving toward pre-pandemic levels of activity and highlights these key trends:
Robust recovery of in-country student group travel: In 2022, in-country student group travel exceeded tour operators' expectations. The 353,500 students who went on trips surpassed the initial estimate of 295,000 students and indicated a 20% greater increase in volume.

Steady recovery towards pre-pandemic levels: In-country travel reached 54% of its pre-pandemic volume in 2022, driven primarily by tour operators based in the U.S., where student groups resumed travel in greater numbers than the rest of the world.

Optimistic outlook for 2023 and beyond: Looking ahead, 47% of tour operators have optimistic expectations for 2023, expecting to achieve more than 80% of their 2019 booking volume. Furthermore, 66% of respondents anticipate reaching their pre-pandemic volumes by 2025.

Price increases and continued recovery: Tour operators reported price increases of over 10% for in-country trips, particularly in transportation and accommodation. Prices are expected to continue rising across all trip components in 2023, with first-quarter increases exceeding initial expectations.
International travel recovery: Out-of-country travel saw a substantial increase in 2022, with a larger number of students travelling internationally (60,000) than tour operators had estimated, representing a 198% increase over the previous year.

Popular destinations: The UK emerged as the leading destination for student group travel, being chosen by 24% of customers. The U.S., France, the UK, and Spain are expected to become even more popular out-of-country trip destinations in 2023.
Gradual recovery of out-of-country travel: While in-country travel rebounded swiftly, the full recovery of out-of-country travel is projected to take longer. However, 38% of respondents anticipate reaching over 80% of the 2019 travel volume in 2023, with a majority (70%) expecting full recovery by 2025.
"We understand that some of the forecasts in the 2022 Barometer may seem conservative," said Assante. "But the pace of change and accelerated recovery has been so great in the first quarter of 2023 that many of our members have become even more optimistic than we were in the First Quarter of this year when the data was gathered."
The Student Travel Business Barometer provides valuable insights into the recovery and future prospects of the student travel industry. It serves as a consistent and vital reporting and forecasting resource for industry professionals, policymakers, and educational institutions seeking to navigate the evolving landscape of student group travel.
You can now read an executive summary of the report below.
(Tu má byť PDF)
If you are looking for data, research, intel, or advice, please:
Note:
The research was conducted by means of an online survey administered between December 2022 and February 2023 that gathered data from a diverse sample of 140 tour operators and travel and education agencies across 22 countries worldwide.
About SYTA: The Student & Youth Travel Association (SYTA) is a non-profit, international professional trade association dedicated to promoting safe and professional student and youth travel. With a mission to foster integrity and professionalism among travel service providers, SYTA serves as the preeminent resource and advocate for student and youth travel. For more information, visit www.syta.org.
BONARD is a reputable market research provider with 15 years of experience in the student travel industry. Leveraging evidence-based solutions, BONARD assists governments, destinations, and individual providers in developing tailored strategies and policies. With leading researchers who are members of ESOMAR World Research, BONARD is committed to delivering reliable market insights. Learn more about BONARD at www.bonardeducation.com.
For more information about the report, please contact:
Ivana Slobodnikova, BONARD's International Education Director: ivana.slobodnikova@bonard.com