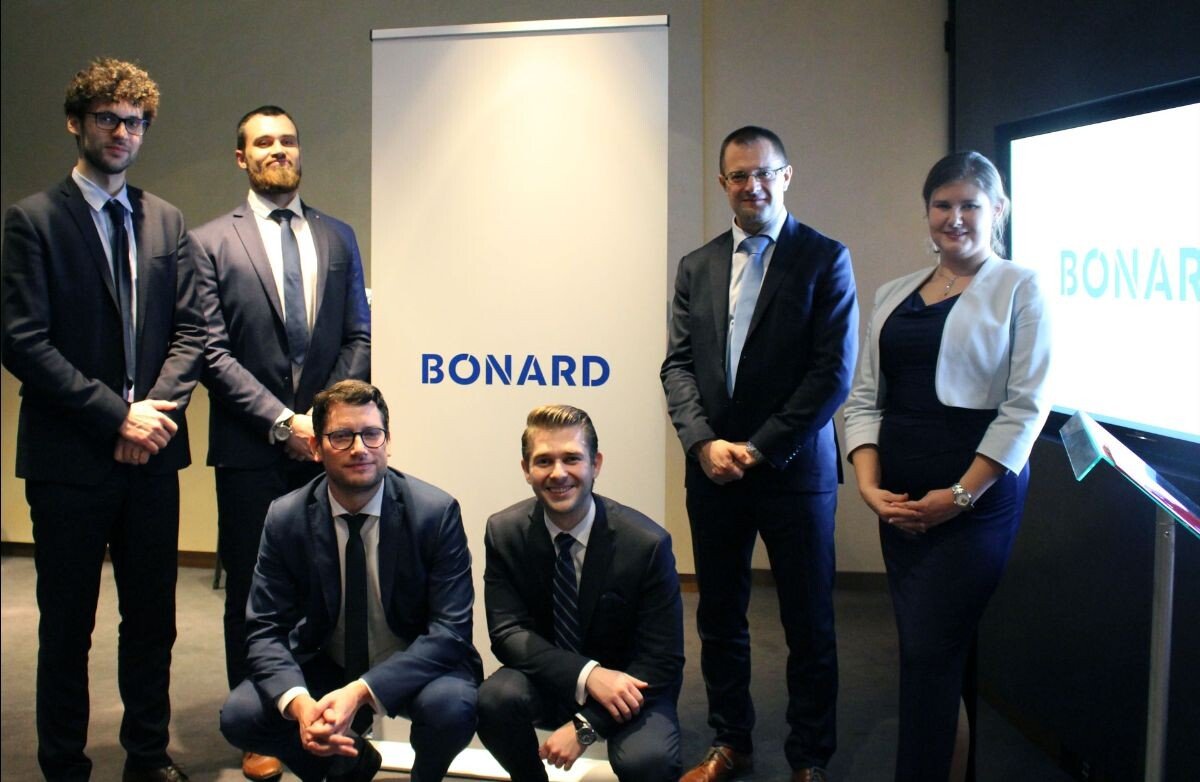 Source: Logo "Bonard", Bonard, 2019
"We sought a name less related to marketing, and one that will allow us to develop an increasingly stronger brand in research."
In the course of its 10-year history, BONARD (formerly StudentMarketing) has become the authority within the international education sector. Its vast body of research, high-level credentials, expertise and quality deliveries from a team of 50 spanning the globe, have made it the go-to address for destinations, governments, associations, schools and investors.
"No revolution, just evolution, to better align ourselves with our direction. There was a feeling over the last couple of years, internally and from clients, that our name did not adequately reflect who we are and what we do best – research and research-driven solutions. We want to continue in this direction, which is why we sought a name less related to marketing, and one that will allow us to develop an increasingly stronger brand in research," explained BONARD's CEO & Founder Samuel Vetrak during the official launch attended by 60 industry stakeholders and professionals.
BONARD (formerly StudentMarketing) will continue to build on its legacy, to focus on research in international education. The approach, remit, portfolio and people will all stay the same. The new name will simply eliminate the marketing connotation and pave the way for its research brand development.
"However, there is more to it than that. At this important 10-year milestone, we have amassed a robust amount of data and insights, which will allow us to be more time and cost-efficient for our clients," added Vetrak.
This news was underscored as BONARD (formerly StudentMarketing) presented its new research packages and products, including annual subscriptions, strategic advisories which are more cost-efficient and quick market scans and consultations deliverable next day.
"Our cumulative global market knowledge has made us the preferred choice of industry stakeholders looking for market intelligence, research, and advisories, to inform their marketing and investment decisions. Now, that expertise is also available as packages with significant benefits – faster access to regularly updated data on the student sector, at an affordable cost," reaffirmed BONARD's COO Igor Skibickij.
The company will continue running its global operations with offices and activities in Europe, Latin America and Asia. "As we deal with a very diverse portfolio of clients and services across the globe, this new name allows to extend ourselves to all those seeking unbiased, reliable and thorough data," said the company's Head of Marketing, Stefan Kolibar.
The launch event attracted some well-known industry faces and media who enjoyed London's signature night views from The Gherkin as they learned about BONARD's plans. "I first met Samuel and his team five years ago and they quickly became our research partner," reported Christian Scheuerl, Managing Director at MPC Micro Living Development and COO of Staytoo Apartments.
"For us in the media, whenever we reach out to analysts, we look to StudentMarketing – now BONARD. They always provide unique market insights and comments on hot topics and industry developments," added Amy Baker, Managing Director and Co-Founder at The PIE News.
BONARD (formerly StudentMarketing) has released its newly-designed website – www.bonard.com – that features its new products and services as well as delivers recent industry news and insights. "We are here to let our research help clients make better informed international education marketing or investment decisions, to maximise their returns and to minimise their costs and risks," said Samuel Vetrak.
BONARD is a leading provider of independent and reliable international education and student housing data and research. Since its establishment in 2007, the company has become the go-to address for governments, destinations, associations, education institutions as well as investors, funds, developers, and operators in student housing and other alternative real estate asset classes.