StudyTravel: Canada's language sector set for recovery, entry conditions a barrier
Canada's English and French language sectors are well positioned for steady growth when language study mobility more fully resumes, but a relaxation of entry conditions and faster visa processes would help to facilitate recovery, according to surveys of members schools and agencies commissioned by Languages Canada.
In a webinar event last week, Languages Canada / Langues Canada and research partner Bonard presented the findings of the State of the Language Education Sector in Canada research, which comprised of a survey of 97 member schools and 205 agencies in 31 source countries conducted in March.
According to the participating agents, 31 per cent of current English language clients are planning to head to Canada in 2021 – the next highest was the UK on 20 per cent, followed by the USA on 14, said Roberto Diniz, Business Solutions Project Manager at Bonard. Furthermore, 32 per cent of French language clients were planning to study in Canada, behind France on 51 per cent.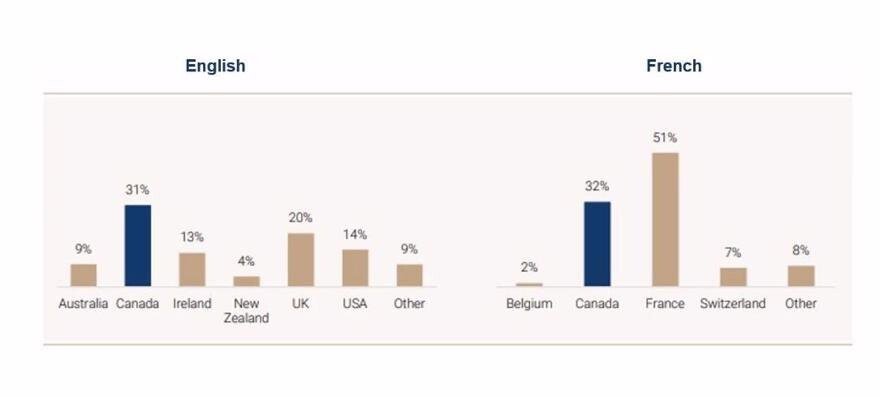 Intended language destinations for agency clients in 2021 in the Languages Canada/Bonard research.
Agencies said that the most significant factor driving choice on study destination was 'best entry conditions' on 24 per cent, followed by job outlook (21), safety measures (16) and affordability (13).
Roberto highlighted that only 11 per cent of students were favouring "the first destination to open up", which he said may be a relief to Canadian providers. Currently, Malta, the UK, the USA and South Africa all have more open policies for at least some student arrivals.
The recovery for Canada's language sector is expected to be a gradual process, Roberto said. Languages Canada members completing the survey expect only 31 per cent of 2019 volumes in the third quarter of 2021, rising to 46 per cent by Q1 of 2022.
Agencies, meanwhile, predicted 31 per cent of pre-pandemic volumes of language business for Canada in 2021, rising to 53 per cent for next year.
The current entry conditions for students heading to Canada – which involve a mandatory three-day stay in a government-approved hotel at the traveller's expense followed by a further 11 days of quarantine in a residence/homestay – were agreed by agents and schools to be the biggest barrier to students currently, followed by slow visa processing.
An easing of these measures would be the most important factor to recovery, contributors said. Forty per cent of schools said the lifting of these restrictions would immediately increase student recruitment, and 30 per cent said that it would enable them to sustain operations without the need for government subsidies.
Following the findings of the report, Diego Sanchez , Manager, International Promotion and Marketing at Languages Canada, highlighted recent data from Immigration, Refugees and Citizenship Canada (IRCC) that shows an increase in student arrivals in 2021.
In the first quarter of 2021, 69,070 study permit students arrived in Canada, more than in the first quarter of 2020 (47,685) or 2019 (64,245).
He cautioned that this was driven in a large part by arrivals from India, which is not typically a source market for language providers, and that relatively few of the arrivals were for language study.
It was also mentioned that the study permit route is the only current route into Canada for students, so some students that would typically use a visitor visa may be boosting the study permit numbers.
Nonetheless, there were more study permit arrivals in the first three months of 2021 compared with the previous year from a number of student source markets, including Mexico, Japan, Colombia, Italy and Turkey. "Students are willing to come to Canada; the appetite for Canada is there," he said.
Diego also advised that Languages Canada's 'Study Safe Corridor TRAVEL SAFE' package, which includes hotel quarantine with meals, insurance plans with Guard.me International Insurance and airport transfers, has now been used by more than 500 international students arriving in Canada.