StudyTravel Magazine: More American higher education institutions using agents
More higher education institutions in the USA are utilising agents to recruit international students according to new research released this week, which also shows uneven recovery in enrolments, differing recruitment resources and agent feelings on barriers to the USA, amongst other findings.
The State of The International Student Recruitment and Enrollment Field Surveyreport – which has been released by the American International Recruitment Council (AIRC) and Bonard with the support of the National Association for College Admission Counseling (NACAC) and the Association of International Education Administrators (AIEA) – is based on a survey between July and October 2022 of 195 higher education institutions in the private and public sectors, representing 118,000 international students.
Agent usage: The number of institutions that reported using agents was 62 per cent, a significant increase compared with 49 per cent in previous research conducted in 2021 by AIRC and NACAC.
Furthermore, 98 per cent of those institutions not currently working with agents reported that they were now considering partnering with agents to boost international recruitment.

Graphic source – AIRC/Bonard.
"We observed a dramatic growth in the number of institutions working with agencies," said Patrik Pavlacic, Chief Intelligence Officer at BONARD and Lead Researcher on the project. "This is a sector-wide shift, and it will be interesting to monitor the situation in the immediate future, as the sector moves on from the pandemic crisis and study destinations globally compete aggressively for student recruitment."
International recruitment trends: In other findings, the 195 institutions in the survey had an average of 1,265 students enrolled in 2021/22, an increase of 7.7 per cent compared with the previous year, but still below pre-pandemic levels. However, recovery is uneven as 40 per cent expected enrolment to exceed pre-pandemic levels in the 2022/23 academic year, but 53 per cent anticipated a further decline.
Almost two-thirds of respondents (62 per cent) said that falling international student enrolment during the pandemic had had an adverse financial effect on their institution, although 57 per cent maintained recruitment budgets and 25 per cent actually increased recruitment spending.
Diversifying the student body was cited as the most important reason for international student recruitment, followed by 'becoming a more global institution', promoting global learning for all students and the financial wellbeing of the institution.
Institutions' recruitment resources: More than half of the responding institutions (54 per cent) said that the admissions office is responsible for international student recruitment, while 21 per cent manage recruitment through a global education office and nine per cent have a dedicated division.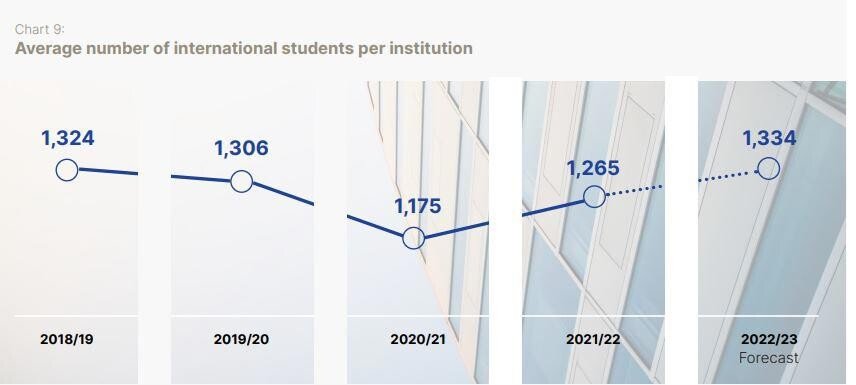 The average number of international students at the institutions in the survey. Source – AIRC/Bonard.
More than a third of institutions have an international recruitment budget (including travel, marketing and commission) at less than US$50,000, although 24 per cent had a budget over US$200,000 and a further 10 per cent allocated US$150,000-US$199,999 for such activity.
The authors found that almost all (91 per cent) of institutions had at least one member of staff dedicating 50 per cent of their time to international undergraduate enrolment, while 60 per cent had this for international postgraduate enrolment. However, for Intensive English Programs (IEPs) more than half (54 per cent) of the institutions surveyed did not have a member of staff dedicating half of their time to international recruitment.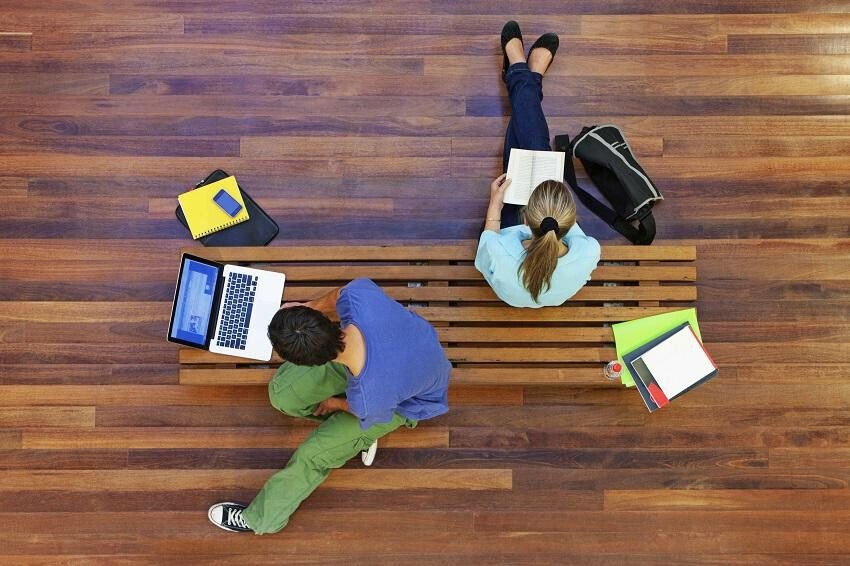 Agents on barriers to the USA: Meanwhile, a corresponding survey of 105 agencies in 39 countries worldwide found that the cost of living and studying was the biggest barrier to recruitment for the USA, cited by 65 per cent, followed by problems obtaining a visa (53).
Other challenges cited by agents included lack of scholarships (27 per cent), the image of the USA overseas (24), lack of promotional material (20) and safety (16).
Almost a third of the agents surveyed (29 per cent) indicated that they do not have enough educational partners in the USA, indicating scope for further partnership building, the authors said.
Agent decisions/services: Agents said that the most important attributes of a potential partner institution were the range of academic programmes and tuition fees, followed by institutional rankings.
Services that agencies provided to institutions included digital marketing (82 per cent), organisation of student fairs (73) and representation at fairs (72).
Further reading: Commenting on the publication of the report, Dr Brian Whalen, AIRC's Executive Director, said, "This survey is both a sign of the field's increasing professionalization and an important way to shape its future. We hope our report will help institutions and agencies forge mutually beneficial partnerships that consider the goals and strategies of each partner."