StudyTravel Magazine: UK ELT data shows further decline in 2021 but signs of recovery
The latest data from English UK's quarterly reporting scheme for member schools shows an overall decrease for schools in 2021 compared with the previous year, but also indicates a gradual recovery as the year progressed.
The full-year 2021 analysis of English UK 's Quarterly Intelligence Cohort (QUIC) scheme shows that 190,939 student weeks were delivered at 124 centres participating in the scheme.
The represented a 27 per cent decrease compared with 261,843 weeks recorded at 136 members in the 2020 QUIC report.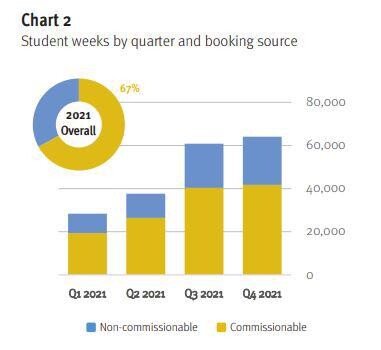 Booking sources for English UK centres in the QUIC data project in 2021. Source – English UK/BONARD.
However, the disparity with 2020 is mostly due to the first quarter comparison. In the first three months of 2020 – largely unaffected by Covid lockdowns and travel bans – more than 140,000 weeks were delivered, compared with only 28,389 in 2021 Q1, when the Detla variant prompted stricter measures.
The 2021 full year report shows gradual growth through the quarters, with 64,099 weeks delivered at participating centres in 2021 Q4 the highest of the year.
Agents accounted for 67 per cent of all weeks delivered in 2021, a slightly lower ratio than the 70 per cent in 2020, possibly explained by more direct bookings of online programmes.
Some 89 per cent of member schools delivered online courses in 2021, the authors found. While eight percent of participants were already offering standalone online products prior to the pandemic, 67 per cent of schools have developed online courses as standalone, marketed products as a result of the pandemic.
The ongoing pandemic has caused a further shift in the balance of mix of students in the UK ELT sector. Prior to Covid-19, junior students accounted for more than half of all students enrolled. But for the 124 members in the QUIC scheme juniors accounted for only two per cent of weeks across 2021 as a whole, and only four per cent in Q3 (July-to-September), when junior bookings are typically at their highest.
The pandemic also had an impact on source country profile. By student weeks, Saudi Arabia was the largest source market for schools in the QUIC data scheme, accounting for 37,894 weeks and gradually increasing through the year.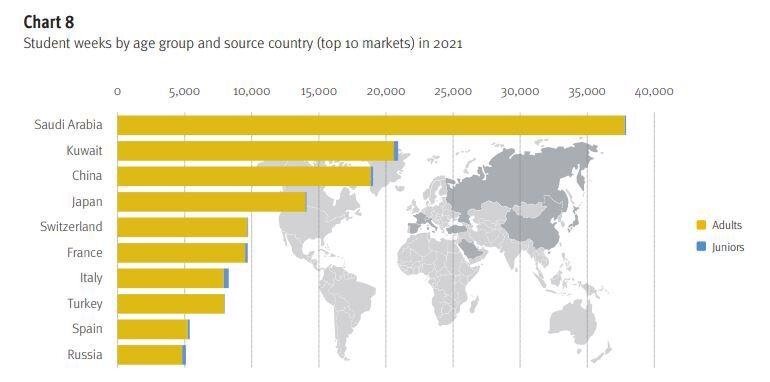 Graphic source – English UK/BONARD.
Kuwait ranked second with 20,905 student weeks, followed by China, Japan and Switzerland. Among junior students, Ukraine ranked as the top source market with 689 weeks.
By course type, General English accounted for 81 per cent of adult student weeks – a slightly higher ratio than 78 per cent in the 2020 report. English for Academic Purposes (EAP) courses made up 17 per cent of student weeks delivered.
English UK's full-year 2021 data, covering all member centres, will be released at the association's annual conference in May.
The QUIC scheme was launched by English UK in 2017 in partnership with research partner BONARD.