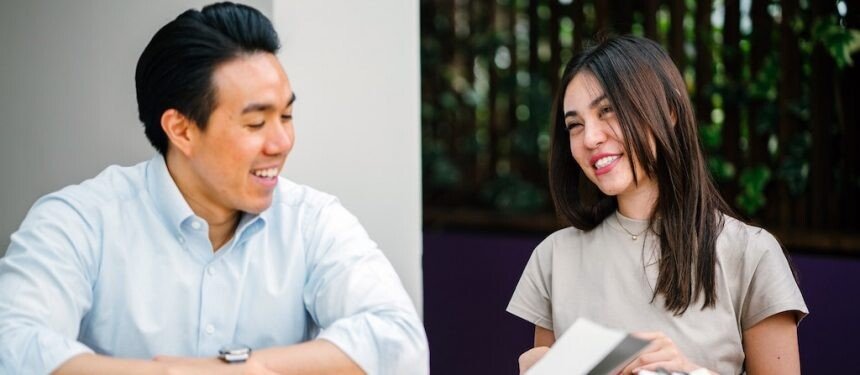 It has also prompted strong uncertainties about the future of English language travel, making investors more hesitant to buy or invest in the sector and more inclined to vertical integrations within ELT and investment in edtech.
The ELT sector, which caters to 1.36 million international students per annum, is now maturing and has naturally entered into a consolidation phase in its development, since reaching a peak in 2014.
The pandemic has overall modified the process of market consolidation by putting enormous pressure on ELT providers.
Source: BONARD, 2021
Currently, there are almost 3,000 ELT centres offering English language courses to international students globally, and strong consolidation patterns emerged in the market already in 2014.
Map 1. ELT supply: active and closed ELT centres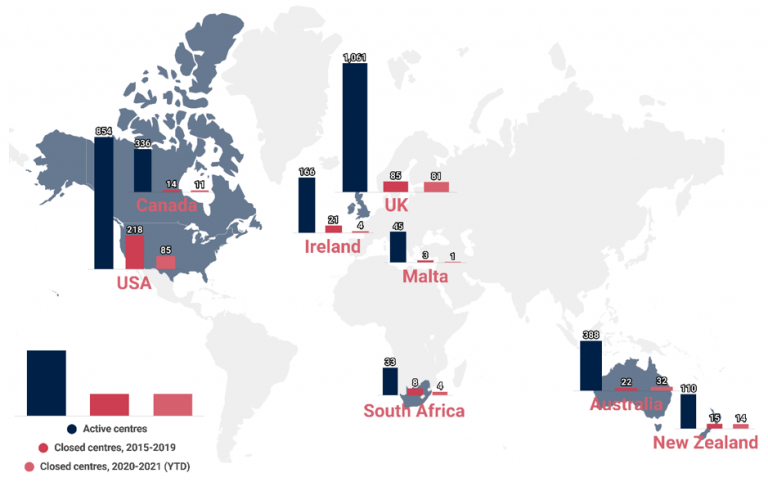 Source: BONARD, 2021; supported by national associations of English language centres including English UK, English USA and Languages Canada; also based on information from English Australia, Education South Africa, English New Zealand, The Federation of English Language Teaching Organisations Malta, Marketing English in Ireland, ACCET, CEA and the British Council.
Note: BONARD's data on ELT centres include private and public sector language schools, independent schools and chains of schools, universities and colleges running English language courses and programmes for international students, university- or college-affiliated institutions for international students, pathway colleges providing language courses, junior summer camps and seasonal camps providing English language courses for international students.
Graph 2: Share of independent and chain ELT centres within current ELT supply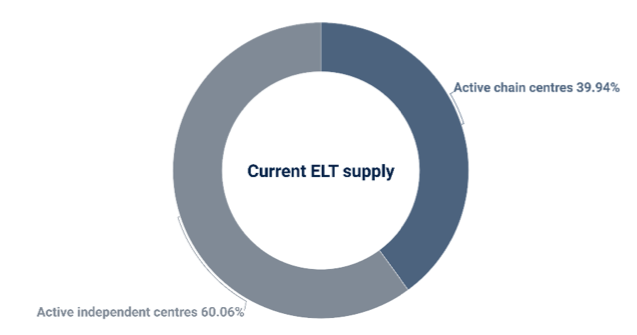 Source: BONARD, 2021
During 2019, 156 ELT centres were acquired or merged; however, during the pandemic this number shrank considerably, to 21 in 2020 and eight in 2021. Of the transactions conducted in 2021, all were recorded in the UK.
Graph 3: M&As by year, 2015–2021 (YTD)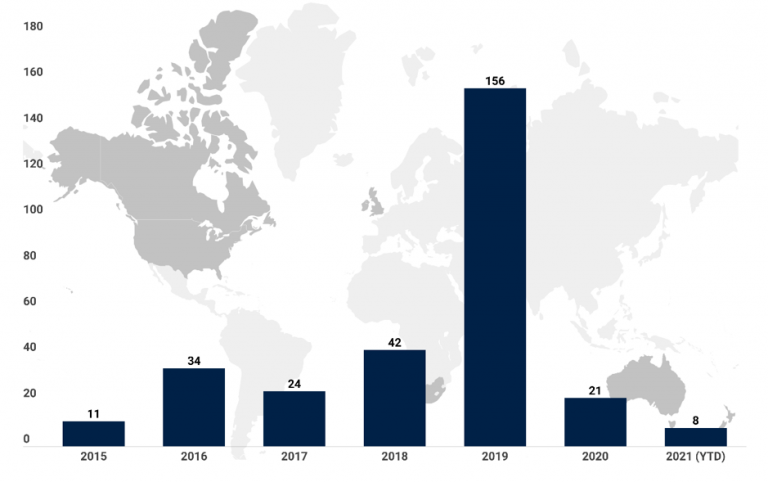 Source: BONARD, 2021
Map 2: M&A by destination, 2015–2021 (YTD)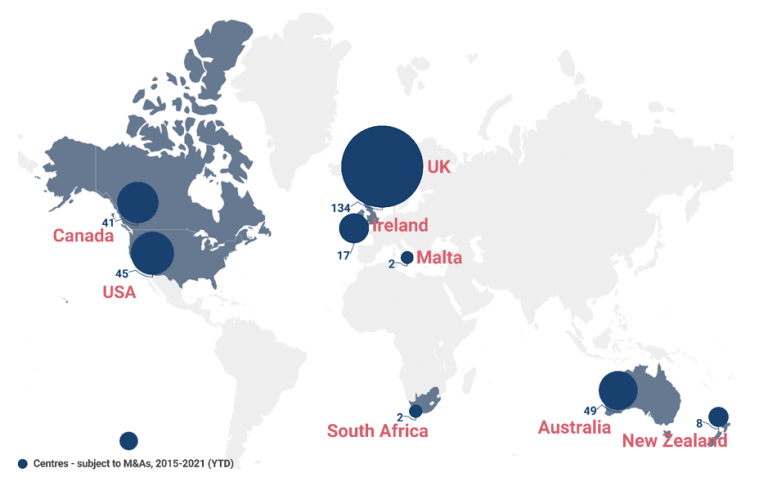 Source: BONARD, 2021
The data indicates that M&A activity has been limited during the pandemic, mostly because of decreased interest among external investors in channelling money into the sector. This is largely related to uncertainties around the future development and recovery potential of ELT due to the unpredictability of travel restrictions, changing customer preferences and travel patterns.
Concerning key M&A services, the pandemic has brought more complexity to the valuation of all companies in the sector, given the high level of uncertainty, the required cash flow to sustain business while sales levels are minimal, and the difficulty of making site visits.
Within its advisory remit, BONARD has participated in several M&As during the last two years, and the challenges observed during the negotiation processes were mostly related to the barriers referred to above.
Among business owners, willingness to sell has decreased due to a low EBITDA. Going into the second year of the pandemic, valuation prospects based on the 2020 performance of most language schools, agencies and other suppliers would have been too grim for business owners to consider selling.
As of today, many smaller ELT businesses are hibernating and waiting for the sector to recover instead of closing or selling. However, the fact that many school owners are hoping better times are on the way may lead to a massive bloodletting and an even more intensive wave of closures in the next couple of years.
Despite the above mentioned factors, a number of important M&As have recently been concluded. These include the acquisition of four UK schools run under the Eurocentres brand by Bayswater Education, which also acquired the Liverpool-based school The Language House and the Language Study Centres portfolio of seven UK summer camps. Another M&A evolved around the acquisition of the in-home operator HLI by LSI Education.
Figure 1: Top selected investments within the ELT sector in 2015–2021 (YTD)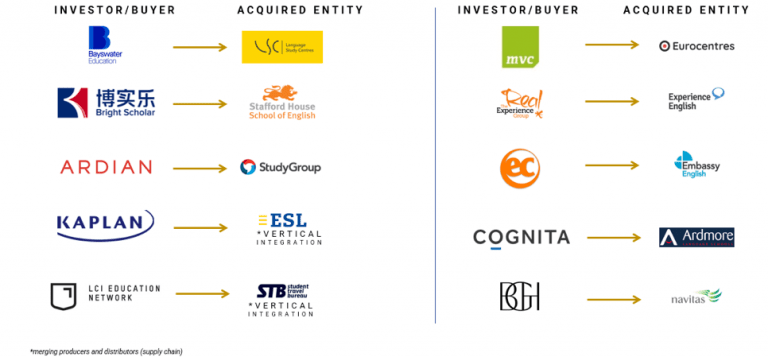 Source: BONARD, 2021
Beside M&A activity, BONARD's research into market supply has unveiled the closure of 159 English language centres in 2020 – the highest number since BONARD started measuring global supply in 2015. Further 73 centres have closed in 2021 to date, and this number is expected to grow marginally towards the end of the year.
Small schools and university language centres are rapidly closing, while large chains are strategically closing centres. For example, the sector witnessed the closure of all EC centres in New Zealand and Australia, the withdrawal of Stafford House and St. Giles from the US market, and the ceasing of operations at several Berlitz, Kaplan, EC and EF centres in the less attractive cities in their main destinations. Of the total of 232 closures of ELT centres observed in 2020–2021 YTD, 130 (or 56%) were chain centres, while the share of chain ELT centres in all eight destinations approached 40%.
Graph 4: Closed ELT centres, 2020–2021 (YTD)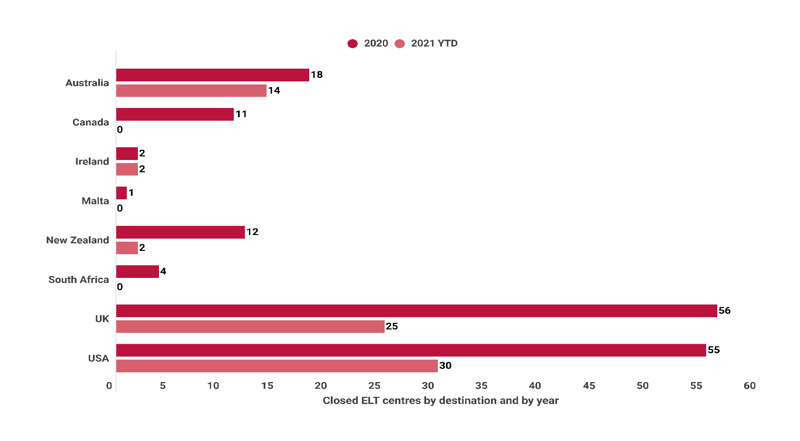 Source: BONARD, 2021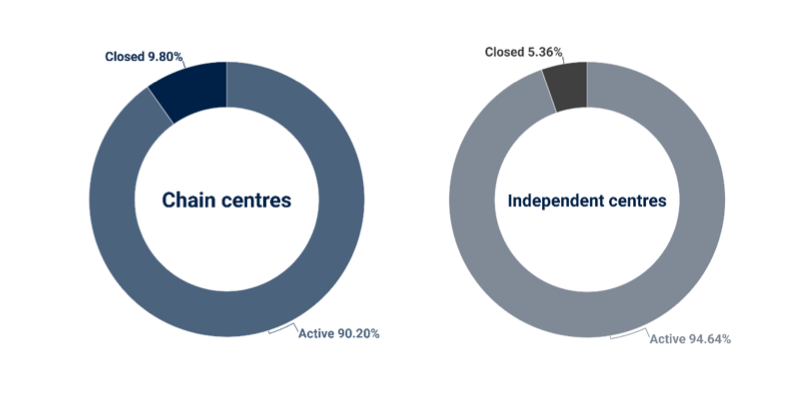 Map 3: ELT supply in selected destinations: the USA, Canada, the UK, Ireland, Australia and New Zealand, data as of August 2021
Legend: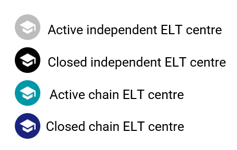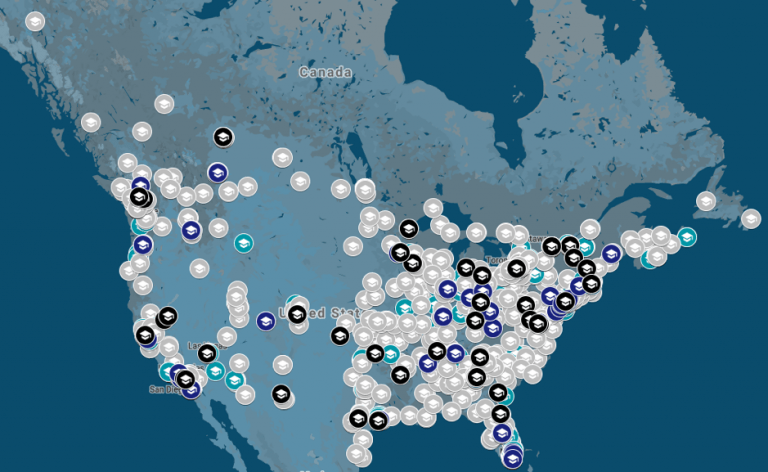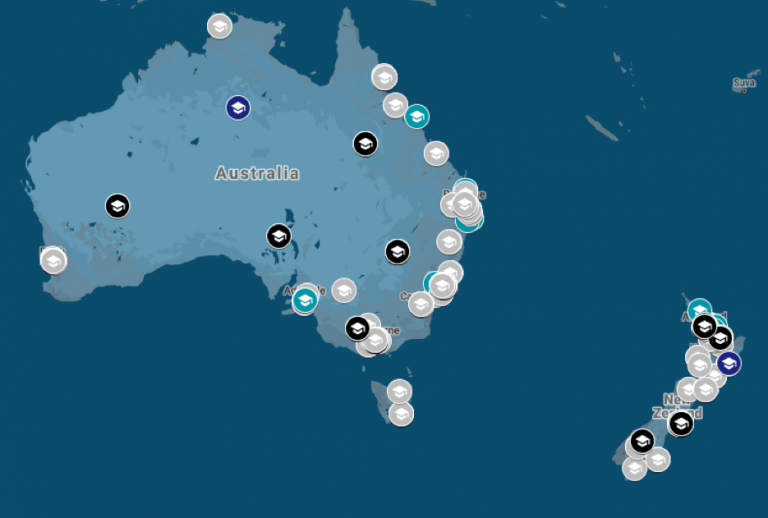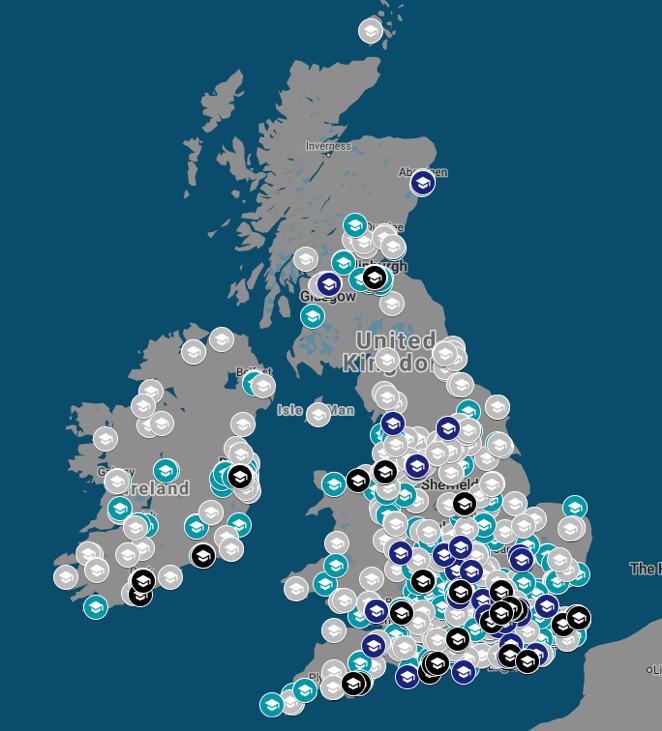 Source: BONARD, 2021
In addition, approximately 200 schools are currently hibernating, that is, not accepting enquiries from international students. Several chain ELT providers have consolidated operations by temporarily closing some or even all their physical teaching centres while delivering classes online. The sector has had to rapidly introduce digitalisation and change the delivery mode from face-to-face to distance learning or hybrid forms. Many physical locations are currently closed despite open borders and continue to offer online services only.
This is particularly the case among providers of short-term courses, including the junior sector. The vast majority of junior summer centres have put their physical locations on hold, and chains have permanently or temporarily closed some of the locations they offer. However, a large number of innovation-driven junior ELT operators have considered introducing distance learning options for students as well as a range of new types of courses and have even considered in-country delivery.
"The number of closures is lower than expected despite the decrease of student numbers during the last two years"

The number of closures is, however, lower than expected despite the decrease of student numbers during the last two years. Many small businesses are hibernating and hoping to reopen in the very near future, yet it can be expected that, within the coming years, even more businesses will close. The future intensity of closures will correlate with the availability (or lack of) government support for English language schools, which are heavily dependent on the influx of international students.

Data from BONARD shows that over the last six years, the market has mainly been consolidating from the inside. The vast majority of capital movement is represented by one school or group of schools acquiring another school or chain, such as Bayswater Education's acquisitions in the UK, or in the form or vertical integrations, such as Kaplan buying an ESL study abroad agency back in 2019.

The situation could change considerably if there were outside investment in the language teaching sector (as when ONCAP invested in ILAC). However, for that to happen, there must also be increased financial data and transparency across the board.

The M&A outlook for the sector is strong – there is pent-up demand for language courses abroad and, considering there will be fewer schools catering to international English language students post-pandemic, they are expected to fare better than they did before 2020. Going into recovery may also be marked by a very close monitoring of operations and marketing and recruitment costs; hence, more joint marketing is also expected, which may stimulate more mergers than the sector has seen so far in 2020 and 2021. Meanwhile, the story of edtech including companies providing language and language-related tech solutions is different. Covid-19 has emphasised the role of technology in education, hence the large interest in edtech from investors.

Between 2020 and 2021, the ELT sector recorded noteworthy vertical integrations involving edtech, such as Study Group's acquisition of Insendi and Kaplan International's buy-out of BridgeU. An investment by online language provider TopUp Learning in a traditional London-based face-to-face English school, Tti School of English, was another noticeable move within the sector demonstrating the power of tech-based businesses.
"Language learning edtech has received investments on different scales"

Moreover, language learning edtech has received investments on different scales, for instance the £0.5 million investment secured by Learning Labs, which runs English teaching software, to the most recent investments in Duolingo and its listing on NASDAQ with a tremendous $6.5 billion valuation. Another important development is the boosting of the internal language market in source destinations such as China.

VIPKid and iTutor Group, which provide language training in the country, had already joined the club of edtech unicorns before the pandemic started, while in January 2020, EdtechX Holdings announced a $535m investment in English language provision along with Meten Education in China. Meanwhile, in July 2020, Permira bought a 60% stake in the children-focused business EF Education First unit with schools in China and Indonesia (unit value US$1.5 billion), with a substantial share of the received investment to be heavily invested in innovations and online delivery.