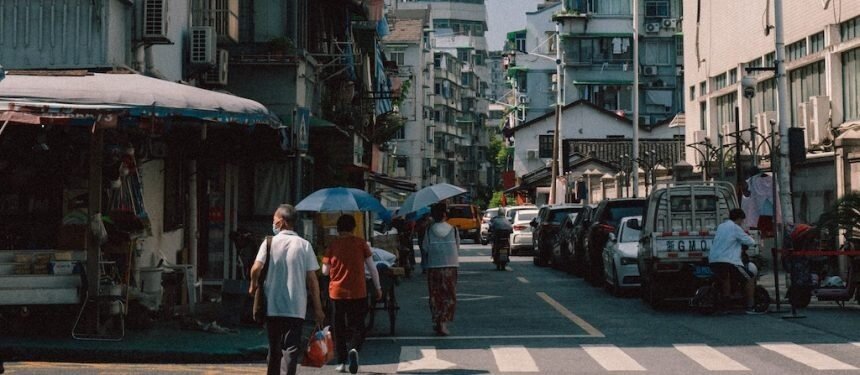 In the five cities it reviewed – Shenyang, Qingdao, Nanjing, Chengdu and Hangzhou – only 18% of agencies are active and offering study abroad related business.
"We don't know if they will resume when situation gets better"
"The rest are closed now, yet we don't know if they will resume when situation gets better, bigger chance they have already changed to different industry," according to BONARD China branch manager, Grace Zhu.
"Due to the impact of Covid, nearly half of the agencies were struggling sending students abroad last year."
Of the 53 agencies analysts were able to reach, 26% were able to secure between 10-20 students, while a few managed to send over 30 students. Some 43% said they had not sent any students in 2020.
The research identified differences across the five cities.
"Among all the agencies that we have reached, Qingdao has only 10% operating as normal," Zhu noted.
"In Nanjing, there are around 35% still active, which is the highest among all the cities we have researched."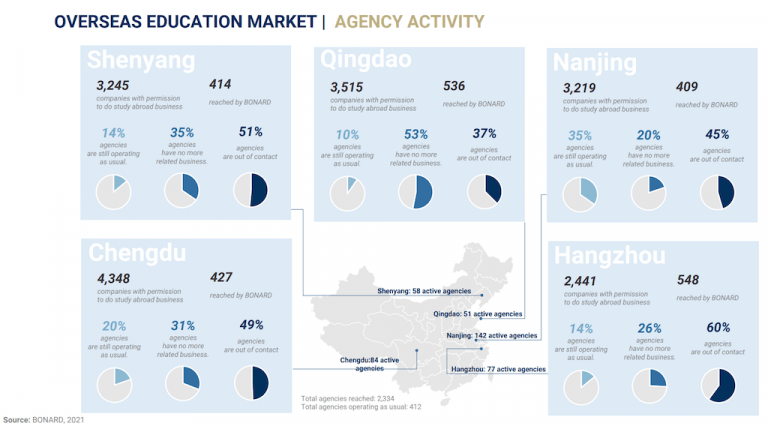 Active agencies are higher in Chengdu because of a developing tourism industry and globalisation in the city, she suggested.
The survey also found no significant preference changes in terms of type of program and destination.
It also found that agencies have not yet felt an impact of the "Double relief" policy on international education sector, but expect positive long-term benefits. The policy seeks to limit the amount of homework and after-school classes on students in compulsory education. Agencies suggested that programs such as summer camps might see an increase in demand as a result.
Speaking during a BONARD panel, spokesman and senior consultant at BOSSA Jon Santangelo said the student market is gradually rebound from last year.
"Although the recovery is not evenly balanced, overall higher ed enrolment both undergrad and postgrad is of course not back to pre-Covid 2019 levels, but they are steadily rising.
"For boarding schools and secondary ed, demand is still lagging. The main reason in particular is that families are not comfortable sending their child abroad because of the pandemic. Some parents enrolled their child into a private bilingual school in China last year and they just decided to let them finish out there," he said.
The "vast majority" of the BOSSA membership – between a third and a half based in Beijing – are still in business and "even reporting increases in numbers of clients this year", Santangelo stated.
"Comparing now to 2020, the recovery and growth is quite strong but not strong enough," Anna Guo, associate director of Sales – Greater China and South Korea at ApplyBoard, said.
"Taking Canada as an example, there are around 30,000 study permits issued to Chinese students in 2019. This number significantly dropped to less than 9,000 in 2020. But when we look at this year, the first six months, the number increased to more than 18,000 which is two times compared to 2020 and 60% of 2019 before Covid.
"For me, I believe the market is in recovery mode and long-term growth will remain very promising."
Shirley Xu, VP, Channel Development, Global, Shorelight Education, agreed that visa access and border opening improved, leading to "strong recovery".
"It is not as fast as we expected"
However 2021 enrolment volume is "actually quite flat" compared to 2020, she continued.
"There is a lot of rolling over volume from 2019, and we all know that overseas study is a very long time – almost one or two years – preparation for the students."
For Shorelight's US partners the recovery is "definitely stable and steady".
"Only in August, our new application volumes doubled compared to last year. It is not as fast as we expected, we did expect it to go back to 2019, but it wasn't realistic. However, the trend is coming back.
"Unfortunately some agencies are not going to survive the pandemic, but… some of the key partners in the market… for example some of the local programs, we are actually working even closer with during the pandemic to find opportunities."