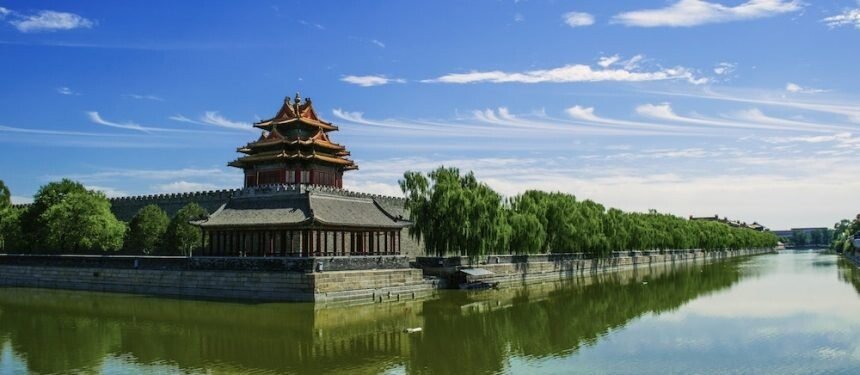 The international education market in China seems to overall "be quite confident right now", and the situation seems "only be getting better", stakeholders said upon the release of a new report.
According to BONARD's research into 2022 China market trends, most agencies in the sector are "positive about future outlook", and that sending numbers have returned back to the "usual".
"The situation is still not ideal, especially in terms of our Chinese market, but what most agencies shared with us was that they didn't really release at the same speed as other markets," said Grace Zhu, China's branch manager for BONARD.
"Overall, we do believe for this year that the situation will only get better and the market seems to be quite confident right now," she continued.
While things seem to be looking up, panellists at a webinar explaining the data agreed that some restrictions were still causing some issues.
"You're seeing apprehension is still there from Chinese students," said Lee Henshaw, head of northeast Asia investments at Scape.
"It's an obvious factor impacting mobility, and I think we all would have seen more Chinese students if there wasn't that sense of apprehension and if there wasn't that restriction on flights, capacity and availability," he continued.
"Most agencies in the sector are "positive about future outlook"

In the data offered by BONARD's research, the areas that seem to have suffered the most are that of K-12 and short-term programs – 95% of agencies are promoting higher education programs, but only 37% and 32% of agencies are currently promoting K-12 and short-term programs, respectively.
The other casualty in the trends in China is the US's performance – interest in the country has dropped from 93% to 63%, while destinations like Japan, Singapore and New Zealand have all gained over 10% in popularity in 2021, compared to 2019.
Despite this drop in interest, Study Wisconsin head Jennifer Phillips said that the US will take some time to rebalance.
"I think we all would have seen more Chinese students if there wasn't that sense of apprehension"
"A lot of our member institutions are actually enrolling students in online classes and making exceptions for them so they can start their study before they feel it is safe to come in," said Phillips.
"In terms of this upcoming spring semester, most of our university partners, however, are seeing groups of students coming through again, so it's a matter of working through some of those flight and travel issues, as well as the safety concerns," she explained.
While that online option has been a vital resource for institutions across the globe in the past two years, Henshaw did mention that students are starting to feel that it is not the best way to do things.
"We've seen this situation now for two years… they're being starved of that face to face interaction, and I do feel the novelty of online events will wear off," Henshaw said.
"That's not discounting that there is definitely a position for it and always will be… institutions should provide that direct engagement, as well as working with a plan for when the market recovers, but should really invest economically in a strong digital footprint in China," he continued.
Looking at BONARD's deep dive on agencies, it was found that medium sized agencies were become a little more common, rising from 12% to 17%, while smaller agencies still hold a good three quarters of the market.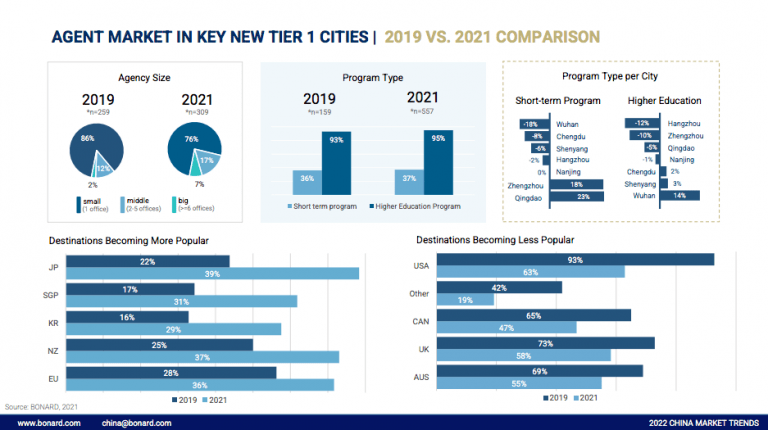 BONARD found that, compared to 2019, its database on agents in general had expanded exponentially – throughout seven cities, Nanjing, Wuhan, Shenyang, Hangzhou, Qingdao, Chengdu and Zhengzhou, the number of active agencies had increased from 265 to 603.
"I am seeing a possible trend away from reliance on agents"
While this is also based on its expansion of its own database, most cities surveyed had seen an increase of at least 20 agencies in the past three years.
Even though these agencies have sprouted during the pandemic, and a lot of institutions are "creating more institutional based partnerships" with Chinese schools and programs, Phillips said that they may not be as popular as time goes on.
"Most of our members currently work with small or medium sized agencies… I am seeing a possible trend away from reliance on agents," Phillips explained.
"In the last couple of years over the pandemic, institutions have realised they need to have a plan that includes more – agents are one piece of the plan, but they can't be the only plan," she added.