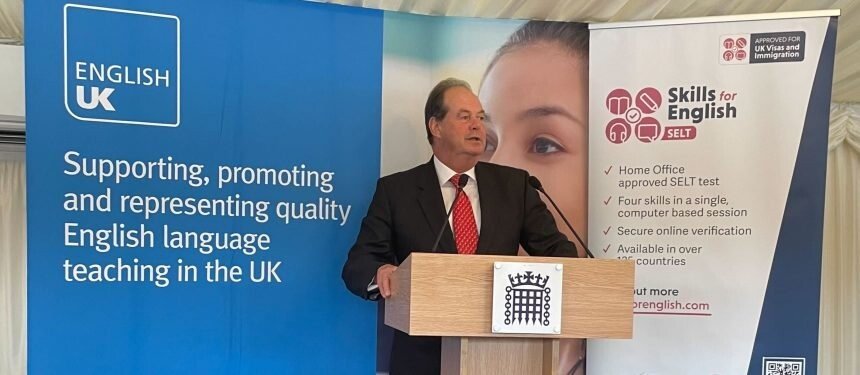 For English UK members, the year 2022 saw a doubling of student weeks and a three-fold rise in numbers, according to association's annual Student Statistics report.
Data from the 308 centres reporting in both 2019 and 2022, compiled by BONARD, outlines that the sector has now recovered 60% of its 2019 student week volume and 51% of its student numbers.
Notably, the data shows that the recovery rate was uneven, with just 13% of providers exceeding their 2019 student weeks.
Stephen Hammond, MP for Wimbledon, called it a "worrying and disappointing" prospect that the sector's premier position is "under threat", and in some cases "lost", during the 2023 English UK Members' Conference.
Hammond said he believes some of the asks are "more achievable than others, but a number of them are achievable".
"I hope that on a cross-party basis, I and my colleagues who are here today will work with you to achieve that," he added.
In 2022, English UK's 329 member centres taught 225,641 full-time English language students, for a combined total of 973,716 student weeks.
Some 93 English UK member centres taught part-time English language courses to an additional 11,913 students.
Growth was driven mainly by the private sector, according to the report.
"These are the figures we've been awaiting, answering the crucial question about how the UK is recovering from the pandemic despite immigration changes making it harder for our biggest markets to travel here," said Jodie Gray, chief executive of English UK.
"Our quarterly statistics had already told us the story is positive overall and that our members' hard work is largely paying off.
"But there are pockets of excellent and worrying news and the loss of ID card travel means it's hard to see when and whether our major EU markets can fully recover," added Gray.
The absolute overall year-on-year growth in student weeks was driven mainly by the fastest growing source markets: Argentina (+1329%), Brazil (+567%), Italy (+502%) and Ukraine (+413%).
"Brazil played a significant part of the recovery for many of us in 2022 and we are seeing it again in 2023, as has Argentina. Both markets for us have not just exceeded 2019 but continued to exceed 2022" said Lisa James, managing director, EC Young Learners.
China and Russia, traditionally key markets for UK ELT, sent fewer student weeks (-25% and -20%, respectively).
"Our members' hard work is largely paying off"
However, James suggested there are signs of a later-than-expected recovery from China, noting that EC Young Learners will only receive its first summer school students from China in the summer of 2023.
"China is going to play a big part for young learner market, as are other areas in Asia as well" predicted James.
Meanwhile, for state sector members, China remained the top source market with 38% of student weeks, despite a drop of 36%. The next biggest markets were Saudi Arabia (9%), Romania (8%), Japan (5%) and Kuwait (4%).
"The uneven recovery and market developments in China and Russia have clear implications for student recruitment strategy-building," said Patrik Pavlacic, chief intelligence officer of BONARD.
"In this context, it is prudent for the sector to combine a focus on source markets that are experiencing a swift recovery and those which might not be rebounding as fast, but offer long-term potential for the UK ELT sector," continued Pavlacic.
"The continued coordination of stakeholders, which include the government, and their targeted marketing efforts in prospective target markets will be crucial in the coming year, and if such coordination is achieved, we firmly believe that the ELT sector will be able to speed up its recovery," he added.
In a statement, English UK described the sector's overall recovery as "patchy", noting that even in the private sector where it is concentrated, the UK lags behind key competitors.
A sixth of private providers exceeded their 2019 volumes but a third achieved under half, according to the report. State sector providers taught a third fewer student weeks than in 2021, and 22% fewer students.
For the first time since the start of the pandemic, juniors returned in volume, making up 49% of all students, compared to 9% in 2021. The comeback was particularly dramatic for the private sector, with 190 private sector centres running junior ELT programmes.
It seems lobbying efforts from English UK members are paying off as some eight MP's attended English UK's parliamentary reception on May 12, launching the association's positioning paper which includes nine asks of government.
The Earl of Minto was also in attendance to show his support for the sector and said that, along with his team, he "looks forward to digesting" the recommendations made by English UK.
"We want to help you bounce back"
"We understand that the pandemic threw up huge challenges for the sector – but as ever, you responded with resourcefulness and resilience to help students keep learning," the Earl of Minto addressed stakeholders.
"We want to help you bounce back and make sure even more of the one and a half million students that study English abroad every year do so in the UK.
"Not only do your centres help English maintain its status as the world's leading language, they give people who go on to become influential in their own nations a lifelong affinity with ours, encouraging their return as students, tourists and entrepreneurs," he added.