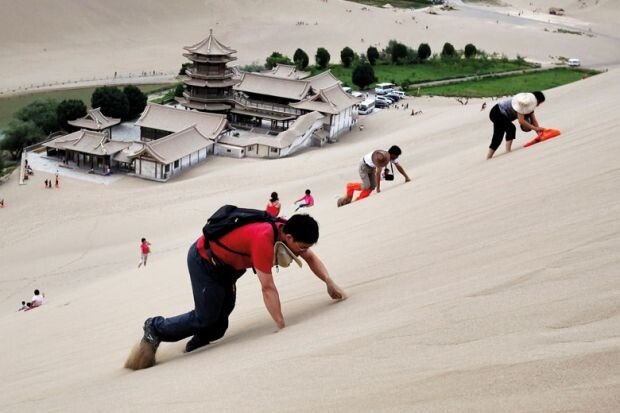 Times Higher Education: China considers international fee rises 'in line' with the West
A proposal to significantly increase international student fees is being considered in China to bring its institutions "in line" with Western higher education providers – but scholars say the move could cause a short-term drop in demand.
A recent report by the Beijing Institute of Technology suggests that Chinese universities should raise their international student fees fivefold, from the standard 20,000 yuan (£2,255) a year to 100,000 yuan, and reinvest the money in infrastructure and research to make themselves more competitive in the long term.
While there is no official plan for increases yet, some scholars have suggested that the study – which was led by top education experts including the head of a major research programme funded by the National Natural Science Foundation of China – signals that the proposal is being taken seriously by Beijing.
Currently, Chinese institutions – including world-leading universities such as Tsinghua University and Peking University – charge a relative pittance compared with their counterparts in the US and the UK, the top global destinations for higher education. In 2020-21, international students at US public four-year universities paid an average of $26,820 (£21,600) a year, while British fees ranged from £10,000 to £38,000 per year.
Richard Coward, founder and CEO of the consultancy China Admissions, said that it "seems inevitable" that Chinese fees would rise in the future and that it was "entirely reasonable" for top-ranked universities to want to charge fees in line with international standards.
William Kirby, professor of China studies at Harvard University, agreed. "The proposed Chinese fees would not be out of line with the practice of some of the world's leading universities," he said, adding, "perhaps the leading schools will want now to be seen as worth a global-level tuition [fee]".
Still, he warned that a price increase might put off some students, particularly those in lower-income countries involved in China's Belt and Road initiative. Some of China's largest international student cohorts are from India, Pakistan and Thailand – all low- or middle-income countries.
"To judge from the US experience, the 'sticker price' of published tuition figures can intimidate applicants, even if financial aid is later given," said Professor Kirby.
Simon Marginson, professor of higher education at the University of Oxford, said the proposed fee hike "might be a sign that the era of relatively generous funding of higher education in China has peaked".
"China has not pursued a commercial or cost-recovery approach to international education up to now," he said. "It has been treated solely as a soft power exercise and a form of foreign aid, a method of building long-term relations, with low fees or free places/scholarships and nearly half of all students coming from Belt and Road countries."
If China were to raise fees, it would be following in the path of US doctoral schools, which have increasingly looked to international students to generate income.
Other countries, such as Finland, France and Norway, have switched from nominal fees to high ones, Professor Marginson noted.
"Nearly all such changes have tended to involve a large overnight 'jump' in fees because once countries decide to change the nature of the relevant international student places, they do it in full," he said.
Professor Marginson predicted that a two-track system would emerge for international students in China, with some, for instance Pakistani students, continuing to be "heavily subsidised" while others would pay "much higher" fees.
Regardless, students are likely to be safe from increases for a while, said Mr Coward, who noted China's ongoing struggles to regain students lost during the Covid pandemic. International student numbers have gradually grown since the country's borders reopened in January, but they make up a scant 5 per cent of China's 2020 goal of 500,000 overseas students, he said.
Zhang Youliang, an assistant professor at the School of Graduate Studies at Lingnan University, was similarly sceptical, pointing out that the country was actively expanding its exchanges and cooperation with other countries to boost its international student recruitment.
Grace Zhu, China branch manager at the consultancy Bonard, said a "gradual increase could be a more reasonable and preferable approach than a steep rise here, which would allow some students to adjust to the changes and plan accordingly".
But tuition fees are not students' only consideration. Even as China has risen to be the third most popular destination for overseas students, its support for them has sometimes been wanting.
A recent study of international students at two prestigious Chinese institutions found that overseas learners "struggle with issues such as Chinese language-dominated instruction, lack of discussion and autonomy in the classroom, limited engagement with domestic (Chinese) students and insufficient practical or hands-on learning opportunities".
Its lead author, Jasvir Nachatar Singh, a senior lecturer in management at La Trobe Business School, said the findings were "concerning". But she, too, thought high demand would ultimately prevail.
"China has joined the club, so to speak, of attracting international students intensely," she said.